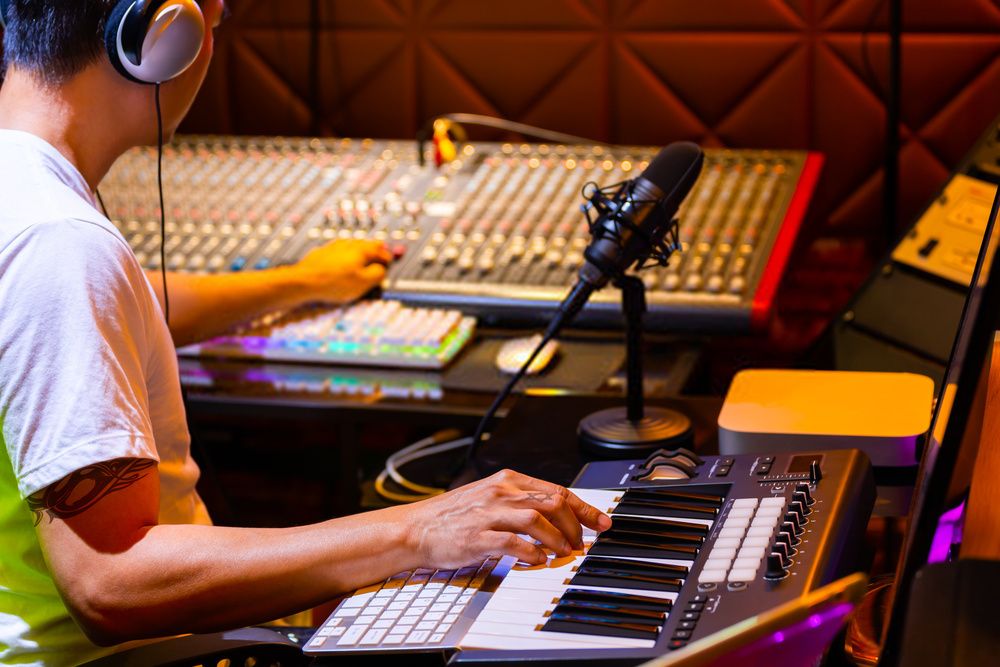 Looking to convert an audio file to MIDI fast? (MP3, WAV, AAC, WMA, AIFF, FLAC) We talk about the best online converters and free software to use. We also inform you how Logic Pro, Ableton Live, and FL Studio can convert mp3 to MIDI.
While having been around for decades, MIDI protocol is still number one when it comes to computer use, studio recording and simply making music. It is a universal music format, perfect for storing music scores.
And for any musician or producer these days, a good converter is an important piece of software. We'll cover converting your audio files to MIDI in this post. Such audio files can be anything from MP3, WAV, AAC, WMA, AIFF, FLAC, and so on) The thing about this format is that it stores music in a super compact size while retaining the quality at a fairly high standard.
At the other hand, MIDI files are much smaller, although another selling point is the easy switch. MIDI files are like digital sheet music, rather than the actual sound of music, which in practice means super-concise details about the actual piece of music, something that producers really appreciate.
There are so many pieces of software these days which can convert MP3 files to MIDI. Many of them are more reliable and some are rougher and easier to use. With that, there are free resources you can use. Some of the most common converters such as Logic Pro, Ableton Live, Pro Tools, FL Studio etc. are built into DAWs.
Free Software for MP3 to MIDI Conversion
This is not only free but also an easy way to convert MP3 to a MIDI file. The first that comes to mind is the legendary free and open source audio editor Audacity. It has all sorts of features, including this type of converter, which is quite decent actually.
On the other hand, Intelliscore is a specialized program that can easily convert any form of music files to MIDI and is one of the uncommon ones that can convert MP3 files with great precision.
Even AVS Audio Converter is a nice solution. This free software provides the conversion to MIDI conversion between all kinds of audio files, as well as video.
Online MP3 to MIDI Converters
If you don't have any DAW software installed on your computer, or simply don't want to convert files through it, using an online converter would be a simple and convenient alternative. Numerous such converters are available online.

Bear File Converter is a website that comes to mind and is completely free of charge.
These online converters can be very useful , especially when converting simpler melody lines. On the other hand, these converters are not generally as reliable as those used in DAW plug-ins and VST applications. You may need to use a separate MIDI editor or DAW if you want to edit the MIDI file.
How to Convert MP3 to MIDI in Ableton Live
Another common DAW for live performances as well as music making. You can convert all sorts of music files to a MIDI format, too, among many others.Only right-click on the track and select "Convert Harmony to New MIDI Track." You will get a relatively detailed MIDI file in a few moments.
If your file consists of the single-note melody line only, you can select "Convert Melody ..." instead of "Convert Harmony ..." option to get MIDI file even more accurate.
Another best thing about Ableton Live to remember is that the app is available for both Windows and macOS.
How to Convert MP3 to MIDI in Logic Pro
Logic Pro is more than just a conversionist. It is one of the well-known products of the DAW software which has been around since 1993. You can convert any kind of music file with this piece of software, and that includes even MP3.
Among many other respects this DAW program is fantastic too and looks like a good resource for producers. The only drawback is that Apple products are only available for this.
Despite the company 's release of so many versions over all these years, the conversion process on each one is pretty much the same and needs just a few steps.
Choosing the MP3 file is the first step to converting. You then need to switch on the so-called Flex Pitch tool. Once you do this, simply select "Build MIDI String" and you will receive a MIDI file in one go. That looks pretty basic and realistic. Although this converter is not 100 per cent correct, if there are any transcription errors, you can repair it instantly.
How to Convert MP3 to MIDI in FL Studio
Produced by Image-Line, a Belgian company, FL Studio is also one of the famous DAW products that has been around since 1997. Of course, during all these years we have seen several updates, and the new edition was released only a few weeks ago. This app works on both macOS and Windows operating systems, and you can also find MP3 to MIDI converter among others.
Things are very easy here, because all you need to do is import the music file you want and click on "Edit Sample." If you do that, you must open the so-called Edison, which is an audio editing and recording tool. The next thing you need to do is click "Tools" and select "Convert to Score"
Types of MIDI Conversion
Currently there are various forms of MIDI conversion that we can identify by specific criteria. We will stick to the forms in this article relating to the audio-to-MIDI conversion. This would be a MIDI conversion of melody , harmony and beat.
It transcribes an audio file 's main melody or topline to a MIDI script.
That translates the track 's harmony to MIDI. These can include keys, monitors, drums, or vocals to back up.
A very popular instrument for music makers. This allows you to import the drum line from the track easily and then, if needed, make some modifications of different beats, strokes etc.
How accurate is MP3 to MIDI?
All these are useful methods to convert MP3 to a MIDI format. Nevertheless, note that items are almost never 100 per cent correct. Often things can be very messy, particularly when a music file is a bit more complex.
Sometimes you can get a lot more notes than you would imagine, like bum notes and odd notes that do not seem to make sense. They may also come up with some issues about timing.
When converting MP3 to MIDI, expect to make it accessible by doing a lot of chopping and changing on MIDI format. However, as a baseline it can be very useful and save you a lot of time when you are looking to transcribe an audio file to MIDI.
Final Words
Knowing that there are different choices when it comes to MP3 to MIDI conversion is such a great thing to know that free and paid. If you're not a developer or a talented musician, spending hundreds of dollars on advanced DAW software doesn't make sense, just for that reason.
Therefore, free options in this case would be a great choice, particularly those pieces of software that are specialized for this form of conversion. Yet don't expect perfect accuracy. Audio to MIDI converters are almost never completely accurate and some chopping and changing is often needed.